Connect, Collaborate, Contribute
The Brave Voices Movement Needs Your Empowered Voice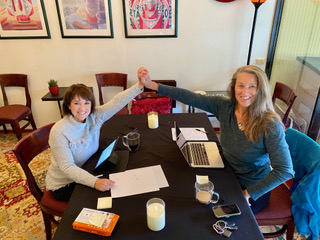 Our founder, Cheryle (Right), and founding member, Beth (Left).
If you have any technical questions or feedback about the website (ie a link isn't working, etc.), contact our help desk at: bravevoices.help@gmail.com
"Cheryle Gail is the quintessential practitioner and guide of NVC practices. Her natural warmth and humor, along with her deep lived experiences, have made her a teacher of rare wisdom and kindness"
"Cheryle is a strong and wise presence in a group, with a guiding personality that allows for all emotions to come forward and be heard, and a rather brave and compassionate vibe that ensures these emotions will be held responsibly and kindly."
"Cheryle's calm energy was inviting, her empathic reflection was grounding and her patience was reassuring. Though learning about the language of "chooser" and inner critic was new to me and I didn't have much clarity around what I needed, I appreciate her guidance around checking in with my body, re-assessing what I needed and if the conversation aligned with what I was looking for when I entered the conversation."
"For many years now, Cheryle Gail and I have assisted Jean Morrison (MA in Psychology, Counseling & Wholistic Health, Co-Founder of NVC Santa Cruz & Certified NVC trainer) in her 2 and 5 days residential NVC/Compassionate Communication workshops at Esalen Institute in Big Sur, California. Cheryle always fills the room with safety, service, trust, love, kindness, presence, and competence. The rudiments of Marshall Rosenberg's teachings are integrated into Cheryle's heart. She lives her practice of compassionate communication. At workshops, I always witness Cheryle showing up for herself, for Jean, for me, for the participants....on time, on point and with deep willingness, authenticity and integrity. Her playful and skillful practice of NVC ---- improv with Jackel and Giraffe ears on, "Empathy Poker", "Empathy NOT", a helpful comment in response to a question, or simply providing empathy ---- is always a blessing. Cheryle is deeply loving, wise, self-responsible, humble, kind and dedicated----a big compassionate heart on legs."