Connect, Collaborate, Contribute
The Brave Voices Movement Needs Your Empowered Voice
Please fill out the form if you want to connect or if you have any questions and we'll get back to you!
Please let us know if there is someone we can send a thank you email to for referring you to Brave Voices. And please describe how you learned about Brave Voices!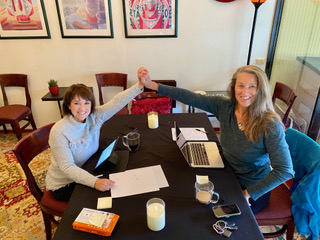 Our founder, Cheryle (Right), and founding member, Beth (Left).
Imagine a movement as strong as MothersAgainstDrunkDrivers, Black Lives Matter and MeToo.
In order to put an end to the silence that perpetuates childhood sexual abuse we need every adult to become a Brave Voice. How do you see yourself included in the movement to protect children?
Which Volunteer Position is a Perfect Fit For You?
Publicist –
Contact and communicate with every "Celebrity" who has spoken publicly about the sexual harm they experienced as children. 

 Personally invite them to be interviewed on Archive Storycorps. 

We know that when others hear celebrities breaking their silence. Normalizing the conversation will snowball and before we know it conversations about protecting children from sexual harm will be discussed openly and often with respect and dignity. When people who speak up to protect children are held with reverence, others will begin to feel safe enough to use their voice as well. 
Fundraiser –
Organize events to raise money to support the efforts of Brave Voices
Grant Writer – 
Write Grants to fund Brave Voices initiatives.
Media Manager –  
Keep Brave Voices in the media's eye. Keep the media up to date with events, announcements, programs offered etc. Keep the media accountable for continuing to report not only the initial report but how the case evolves. 
Researcher – 
To study and prove speaking up, breaking the silence does in fact contribute to the reduction of sexual harm.
Please fill out the form above. Select "Volunteer" in the Subject dropdown menu. Let us know in the message box what role you'd like to volunteer for and we'll get back to you
"Cheryle is a strong and wise presence in a group, with a guiding personality that allows for all emotions to come forward and be heard, and a rather brave and compassionate vibe that ensures these emotions will be held responsibly and kindly."
"Cheryle's calm energy was inviting, her empathic reflection was grounding and her patience was reassuring. Though learning about the language of "chooser" and inner critic was new to me and I didn't have much clarity around what I needed, I appreciate her guidance around checking in with my body, re-assessing what I needed and if the conversation aligned with what I was looking for when I entered the conversation."
"For many years now, Cheryle Gail and I have assisted Jean Morrison (MA in Psychology, Counseling & Wholistic Health, Co-Founder of NVC Santa Cruz & Certified NVC trainer) in her 2 and 5 days residential NVC/Compassionate Communication workshops at Esalen Institute in Big Sur, California. Cheryle always fills the room with safety, service, trust, love, kindness, presence, and competence. The rudiments of Marshall Rosenberg's teachings are integrated into Cheryle's heart. She lives her practice of compassionate communication. At workshops, I always witness Cheryle showing up for herself, for Jean, for me, for the participants....on time, on point and with deep willingness, authenticity and integrity. Her playful and skillful practice of NVC ---- improv with Jackel and Giraffe ears on, "Empathy Poker", "Empathy NOT", a helpful comment in response to a question, or simply providing empathy ---- is always a blessing. Cheryle is deeply loving, wise, self-responsible, humble, kind and dedicated----a big compassionate heart on legs."